I have been planning my 90-Day Bins Listing Challenge since before Christmas. I chose a start date that would take me to the end of April and then give me a moments respite before yard sale season began. So, tomorrow is the day. This morning, however, we awoke to frigid temperatures and snow.
Snow. We were expecting the polar plunge, but no one mentioned snow. I hate driving in snow and with these temperatures, it isn't going to melt before tomorrow morning. My plan was to go to the bins, first thing to see what I could find, come home and begin my listing challenge. Did I mention how much I hate driving in the snow?
Yesterday, we discovered that my dishwasher has been leaking. We have ordered the part, but I am going to be without it for several days. We also discovered that the leak from the aforementioned dishwasher has caused considerable damage to the subfloor in my kitchen, requiring a fun new home improvement project in the middle of winter. Yay, for unexpected home improvement projects? *That was sarcasm in case you didn't recognize it.*
This is when I begin second guessing myself. Am I taking on too much stress? How will I feel if I get a few days into this and my kitchen is torn apart for days and days?
Do I really need some big, hairy ass goal (BHAG) to motivate me? I mean really who cares if I do this or not? Did I mention snow?
Part of this challenge, for me, is also a great project to finally get my website off the ground. I have never been focused enough to dig in and stay consistent. I believe that challenging myself to examine my sourcing and listing will give me a great framework to launch This Reseller Life for real. I am also trying to determine whether or not I am making enough money based on the amount of effort I am expending and the physical space it is taking up in my home to justify continuing on my reselling journey.
Well, my car has 4-wheel drive and I can always take the back way to the Outlet. I will just take it slow and make other drivers crazy. As for the kitchen, Brad can do dishes and I have no more control over the floor getting fixed if I postpone the challenge or not. I've sort of got that now or never kinda feeling and that if I postpone by even a day, I will continue to find reasons to postpone until I just decide to forget the whole idea.
So, for now, it's a go. I am preparing my photography space and organizing my listing equipment. I have my gloves and IKEA rainbow bags in the car and my gym bag is packed and ready to go. Always an overachiever, I am planning on stopping by the gym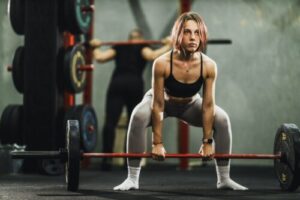 for a quick workout and hydro-massage after my sourcing excursion. I will then swing by my storage unit to pick up my solds and come home and get my shipping ready for drop off at the post office.
Then, the listing process will begin. I am hoping to list anywhere from 10 – 20 pieces a day. I usually start with photography and down and dirty drafts on my cell phone. Later, I can finish the drafts on my laptop and launch. It's amazing how motivated I get when I have drafts waiting for me.
This is my plan. This is the way.
Wish me luck!